Maths
Why is maths important?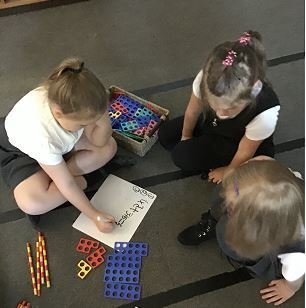 Mathematics introduces children to concepts, skills and thinking strategies that are essential in everyday life and support learning across the curriculum. It helps children make sense of the numbers, patterns and shapes they see in the world around them, offers ways of handling data in an increasingly digital world and makes a crucial contribution to their development as successful learners.
Children delight in using mathematics to solve a problem, especially when it leads them to an unexpected discovery or new connections. As their confidence grows, they look for patterns, use logical reasoning, suggest solutions and try out different approaches to problems. Mathematics offers children a powerful way of communicating. They learn to explore and explain their ideas using symbols, diagrams and spoken and written language. They start to discover how mathematics has developed over time and contributes to our economy, society and culture. Studying mathematics stimulates curiosity, fosters creativity and equips children with the skills they need in life beyond school.
Careers that the study of Maths supports include:
Computer programmer

Game designer

Engineering

Insurance

Accountant

Estate agent

Meteorologist

Data scientist

Teacher
At The Wings' CE Trust, we use the Teaching for Mastery approach through which we aim to ensure children:
enjoy maths and achieve well

become fluent in the fundamentals of mathematics, including through varied and frequent practice with increasingly complex problems over time, so that pupils develop conceptual understanding and the ability to recall and apply knowledge rapidly and accurately

reason mathematically by following a line of enquiry, conjecturing relationships and generalisations, and developing an argument, justification or proof using mathematical language

can solve problems by applying their mathematics to a variety of routine and non-routine problems with increasing sophistication, including breaking down problems into a series of simpler steps and persevering in seeking solutions

are able to apply their learning to real-life situations and other contexts providing a foundation for understanding the world, the ability to reason mathematically, an appreciation of the wonder and power of mathematics and a sense of enjoyment and curiosity about the subject
*At Atherton St. George's, we follow the White Rose schemes of learning. It is important to note that the order differs slightly to accomodate mixed age teaching within school.